301st Bombardment Group (H)
The 301st Bombardment Group of World War II, flew 464 missions in B-17 Flying Fortress aircraft. They were assigned to the 8th and then the 12th and 15th Air Forces having headquarters stationed in England, North Africa and Italy.
The B-17 was considered a 'heavy' group. This was the designation given to four-engine bombers. Their primary mission was strategic in nature. That is to say their main targets were industry specifically those that had a value to the war-industry. Oil refineries, iron works, munition and aircraft factories along with railroads and marshalling yards the rails on which raw materials and finished products were delivered. Shipping and docks were also high priority targets for the 301st BG.
Comprised of four squadrons (32nd, 352nd, 353rd and 419th) the 301st suffered lack of planes, parts, men and supplies through their time in England and North Africa. It was difficult to have missions with a full complement of aircraft until victory in North Africa was achieved in May of 1943.
Their B-17s during 1942 and early 1943 were the 'F' model. The G model a/c did not arrive to combat theaters until late fall of 1943.
The 301st BG was based in Italy with the 5th Bomb Wing, 15th Air Force when the war in Europe ended in May 1945.
This site is dedicated to the men of the 301st Bombardment Group of World War II. It was started by a family member of one of the men who served in 1942-1943 and is now part of the family of websites operated by the Army Air Corps Library and Museum.
---
---
A new book about a 301st BG B-17.
Most aircraft of World War II had pictures of sexy girls, tributes to sweethearts, songs and home. The planes were fondly referred to in a feminine manor. That was not the case with this B-17 tail number 42-25233. He was Rigor Mortis.
This is the story of Rigor Mortis and his men who flew over 120 missions from North Africa and Italy in 1943 and 1944. This sixteen month story encompasses the 301st, 2nd and 483rd Bombardment Groups of the 12th and 15th Air Forces. It begins with the first crew in Salina, Kansas. Their overseas trip via Brazil, arriving at Biskra, Algeria on New Year's Eve 1942. 25233 and his men flew their first mission on January 2. Some missions would be milk runs, many quite difficult. They all had a cost.
Softcover. $29.95. 291 pictures of documents, photos and artifacts.
---
---
---
Make A Donation
Support the Army Air Corps Library and Museum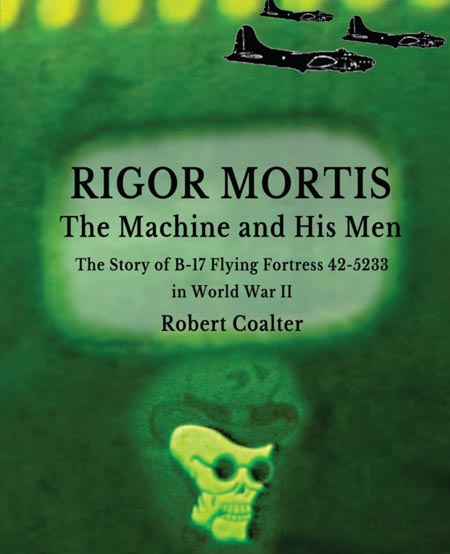 Get More Info
B17 Rigor Mortis Book
Read the history of one of the planes of the 301st BG.
Military Cinema Presents
Combat film of the 301st BG in WWII on DVD.
Archival Combat Film Footage DVD of the 5th Bomb Wing includes the 301st BG.
---
---