B-17 25233 Rigor Mortis
I would like to get in contact with any survivors, spouses, descendants or other family members. Thank You.
Johnson (Late '42, Early '43)
Edward F. Stoddard
Hart (Feb. '43)
Bishop (Feb.-April '43)
Charles Gregg (April '43)
Edward Kitterman (April '43)
Robert Fonner (July '43)
Victor Lewin (July '43)
Johnson (Fall '43) - May not be the same person as above.
Abbott (July '43)
Wilbur Raffensperger (July '43)
Neely (July-August 1943)
Paul V. Callis (August '43)
Buell W. Oberholser (August '43)
Gene F. Ohlendt (Sept.-Oct. '43)
Charles Clowe (August '43)
William J. Emerson (Sept. '43)
Herbert Patterson (Oct. '43)
Parker (October 1943)
William E. Wofford (Oct.-Nov. '43)

Dates in ( ) Denote the months during which they are shown to have flown a mission in Rigor Mortis.
Contact me through the website, www.b17rigormortis.com
---
---
---
---
Make A Donation
Support the Army Air Corps Library and Museum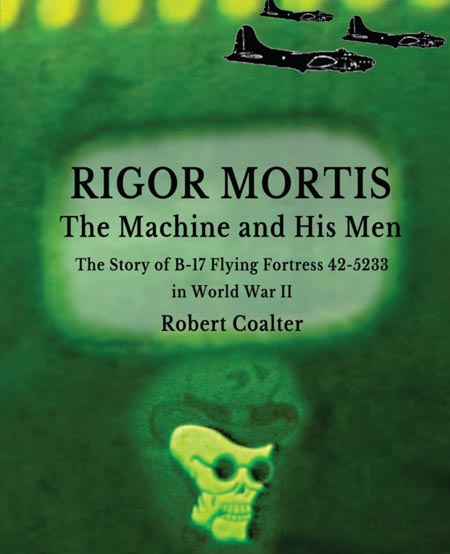 Get More Info
B17 Rigor Mortis Book
Read the history of one of the planes of the 301st BG.
Military Cinema Presents
Combat film of the 301st BG in WWII on DVD.
Archival Combat Film Footage DVD of the 5th Bomb Wing includes the 301st BG.
---
---