B-17 Aircraft Nose Art
In the last 15 years many books have been published dealing with the subject of World War II Nose Art. The following is a list of the books we know of on this subject that include at least some B-17s. Published photographs of 301st BG Nose Art are especially rare. Not many will be found in these books. If a visitor to this website spots a 301st BG or former 301st BG aircraft in one of these books (we haven't searched them all) please contact us with the edition, page number, aircraft identity and other details! If you know of any other titles dealing with B-17 nose art or postwar 301st BG/BW B-29/KB-29/KC-97/B-47/KC-135 nose art drop us a line. Also if you find any magazine articles on the subject dealing with 12th and 15th AF B-17 nose art or the later 301st aircraft let us know!
A full list of known 301st BG B-7 nose art names and aircraft identities is found at the link at the bottom of this page.
Aircraft Nose Art FROM WORLD WAR I TO TODAY by Jeffrey L. Ethell & Clarence Simonsen. Formerly called The History of Aircraft Nose Art Motorbooks International, 2003 edition, ISBN 0-7603-1369-5, 192 pages. 200 b&w, 200 color illus., originally 10-1/4" x 10-1/4" hardbound and about $29.95 when it was available in 1991. It seemed to major on the Vargas girls artwork mostly. 2003 edition softbound and seen priced at $19.95.
AIRCRAFT NOSE ART 80 YEARS OF AVIATION ARTWORK by Jim P. Wood 144 pgs., 350+ illus., 10" x 11" hardbound $19.95 Available since at least 1994. Barnes & Noble edition (1999) ISBN 0-7607-1488-6
B-17 Flying Fortress NOSE ART GALLERY by John M. & Donna Campbell 96 pgs., 350 b&w, 20 color illus., 9" x 10-1/2" softbound $15.95 since at least 1993.
B-17 NOSE ART NAME DIRECTORY by Wallace R. Forman 96 pgs., 32 b&w illus., 8-1/2"x 11" softbound $14.95. (Copyright 1996 Phalanx Publishing Co., Ltd., ISBN 1-883809-14-2, Library of Congress Catalog card Number: 95-72893. Phalanx Publishing an imprint of: Specialty Press Publishers and Wholesalers, 11481 Kost Dam Road, North Branch, MN 56056; 1-800-895-4585
Fighting Colors: Glory Days of U.S. Aircraft Markings by Robert F. Dorr Osceola, Wisconsin: Motorbooks International, 1990.
MIGHTY EIGHTH WARPAINT & HERALDRY by Roger A. Freeman 160 pgs., 350+ color illus., 8-1/2" x 11" hardbound $39.95 since at least January 2000
PLANES, NAMES & Dames, 1940-1945 VOL. 1 by Larry Davis 64 pgs, 200+ illus., 8-1/2" x 11" softbound, $9.95 Carrollton, Texas: Squadron/Signal Publications, 1990.
PLANE NAMES & BLOODY NOSES 100th Bomb Group (Heavy) USAAF Thorpe Abbotts, England 1943 -1945 "...a MUST HAVE book for 100thBG vets and families..." (Splasher Six Fall 2001) Named and painted B17 Flying Fortresses their crews, their service and their nose art 'Ain't Mis Behavin' to 'Yo Yo Buddy' Listing of 306 combat missions for 100BG Crew lists for 120 named planes covered in the book and listed as Missing In Action 296 pages, 380+ black/white photographs Hard cover with full color dust jacket ISBN 1 898575 01 0 UK Price: £29.95 (GB Pounds) plus mailing VISA and MASTERCARD facilities available
Plane Names & Fancy Noses by Ray Bowden Subtitled: The 91st Bomb Group (Heavy) U.S. Army Air Force 270 Flying Fortresses - their service, their fate, their nose art and its origin and artists 400 photographs, many never previously published List of 340 combat missions with aircraft losses Full crew listing for all named aircraft missing in action Serial number listing for B17s assigned to the 91BG(H) 288 pages, 410 b&w illus., 8-1/2" x 12" hardback, $39.95 since at least 1997 ISBN 1 898575 00 2 For further information please contact Ray Bowden at USAAF Nose Art Research Project ray@usaaf-noseart.co.uk or go to website: http://www.usaaf-noseart.co.uk/contents2.htm
SHARK?S TEETH Nose Art by Jeffrey L. Ethell, 128 pages, softcover, 117 black & white photographs, 72 color photos. Two ISBN?s seen: 0879385847 (Osceola, Wisconsin, U.S.A.: Motorbooks Intl, 1992, First American Edition ) and 1-85310-380-2 (Shrewsbury: Airlife Publishing Ltd., UK 1992). Book measures 9" x 10 1/2" and has index. It covers shark's teeth on 60 types of aircraft--American, British, German, French, Australian, & six other countries. The text traces the history of this art form WW1 through to the latest combat aircraft. Said to be the first book devoted exclusively to a single genre of nose art - the fierce faces and slashing teeth painted on aircraft such as biplanes, P-51 Mustangs, P-38s, P-39s & P-40s as well as B-24, B-25 & Lancaster Bombers right through to Korean war & Vietnam examples.
Talisman - A Collection of Nose Art by John M. and Donna Campbell, ISBN:0887404146, 258 pages, 690 photos,155 in color. Schiffer Publishing West Chester, PA 1992. TALISMAN (tal'is men) [Fr. < Ar tilasm, magic figure, one with the power to avert evil; Anything thought to have magic power; a charm.] This new collection shows the various "good-luck" figures and symbols as featured on B-17s, B-24s, B-25s, B-29s, P-40s, P-51s as well as foreign aircraft in US markings from all theaters of World War II and Korea. Most of these photographs are published here for the first time, and express the whims and thoughts of crew members as they try to represent in nose-art a shield against bad luck - namely, enemy actions. As in their previous work, WARPAINT, John and Donna Campbell have culled the most unusual, outrageous, and prophetic nose-art from their many years of collecting aviation history in photographs. 9? x 12?, glossy page stock.
Vintage Aircraft Nose Art by Gary M. Valant. 208 pgs., 908 black & white and 118 color photos. 10 3/4" x 12 1/8" tall hardbound (ISBN:087938266X) 1987 edition Motorbooks International, Oseola, WI, 1st reprint 1989. (ISBN:0760312087) Motorbooks International, 2001 Applied by amateurs or professional artists like Vargas, the art typically featured alluring women whose charms belied the deadly cargo the crew hoped to deliver to its targets. Hundreds of examples are shown in a combination of archival photos from the wars and current photos of artwork in museum collections. This a record of the unique American art inspired by the air combat of World War II and the Korean War--an art borne from pin-up posters, Vargas girls, Mickey Mouse, etc. Collected by Gary M. Valant--a photographer turned art historian. It was bound in textured black boards lettered in gild.
World War II Nose Art in Color by Jeffrey L. Ethell (ISBN: 0879388196) Motorbooks Intl, Osceola, Wisconsin, 1993. 96 pgs., 80 color illus., over 7¾" - 9¾" tall. Reported available in both soft cover and hard cover.
---
---
---
---
Make A Donation
Support the Army Air Corps Library and Museum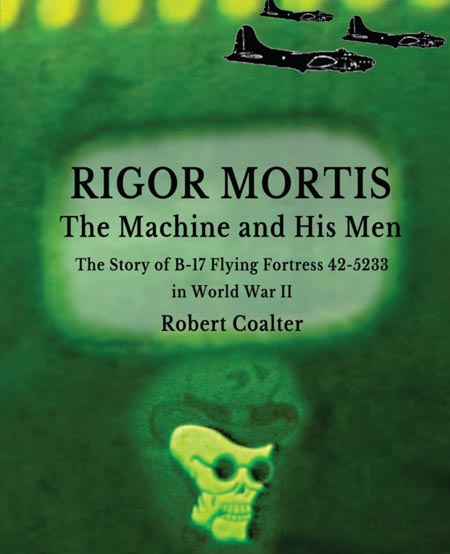 Get More Info
B17 Rigor Mortis Book
Read the history of one of the planes of the 301st BG.
Military Cinema Presents
Combat film of the 301st BG in WWII on DVD.
Archival Combat Film Footage DVD of the 5th Bomb Wing includes the 301st BG.
---
---