Aircraft: 44-6652 Crash: 12/29/1944 MACR: 10930
AC 44-6652 exploded from 2 direct flak hits in the ball turret/bomb bay/radio room areas over the IP at 20,000 feet on mission to Castelfranco Veneto Locomotive Depot, Italy on 12/29/1944.
The men were hit shortly after they had made a routine oxygen check. The plane went into a steep dive and spin. Then blew up and threw the men out, unconscious or killed. 3 men perished a fourth MIA, presumed dead and 6 became POW's. One personal statement had him regaining conscious abt 3000 feet and opening his parachute.
The navigator, survived the fall without a parachute opening, suffering broken legs, arms and ribs.
Pilot, Lyle Pearson, 1st Lt, POW
Co-Pilot, Samuel Wheeler, 1st Lt, POW
Bombardier, William Ferguson, 1st Lt, POW
Navigator, Arthur Frechette, 2nd Lt, POW
Eng. Gunner, Farrell Haney, Sgt, KIA
Radar. Opr, Gunner, Robert Halstein, S/Sgt, MIA
Lower Turret, gunner, Charles Williams, S/Sgt, KIA
Waist gunner, Mitchell Vuyanovich, S/Sgt, KIA
Waist gunner, Charles Lyon, Sgt, POW
Tail gunner, Grant Dory, Sgt, POW

---
---
---
---
---
Make A Donation
Support the Army Air Corps Library and Museum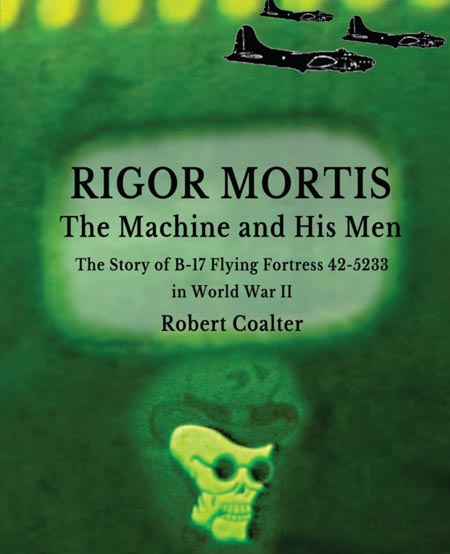 Get More Info
B17 Rigor Mortis Book
Read the history of one of the planes of the 301st BG.
Military Cinema Presents
Combat film of the 301st BG in WWII on DVD.
Archival Combat Film Footage DVD of the 5th Bomb Wing includes the 301st BG.
---
---